Following on from article 3 drafting your plans, the next step in the process is to submit your development application to your local government council.
Now to be clear the process to do this is going to differ depending on where you are going to develop. So please use this article as a source of information to kick start your thinking and knowledge on this subject, however to get the specific process for the area you wish to develop in reach out to the town planner within your local government council.
When you submit your development application, you're going to have a number of reports and certificates that the council will require. Now don't get scared when looking at some of these items that you will need to provide because they sound complicated.
Understand that your job here is to play the middle person. Everything required in the development application will come from a professional which is either your builder or architect will organise.
For example, you will more than likely require a landscape plan. Your builder will have someone they use to conduct their landscaping activities, so your builder will manage this for you.
What I did to make the process as easy as possible, was to sit with both the builder and architect and go through each item in the development application checklist and confirm who was going to manage each item.
Below is an example of what is in a development application checklist as well as the items included within it: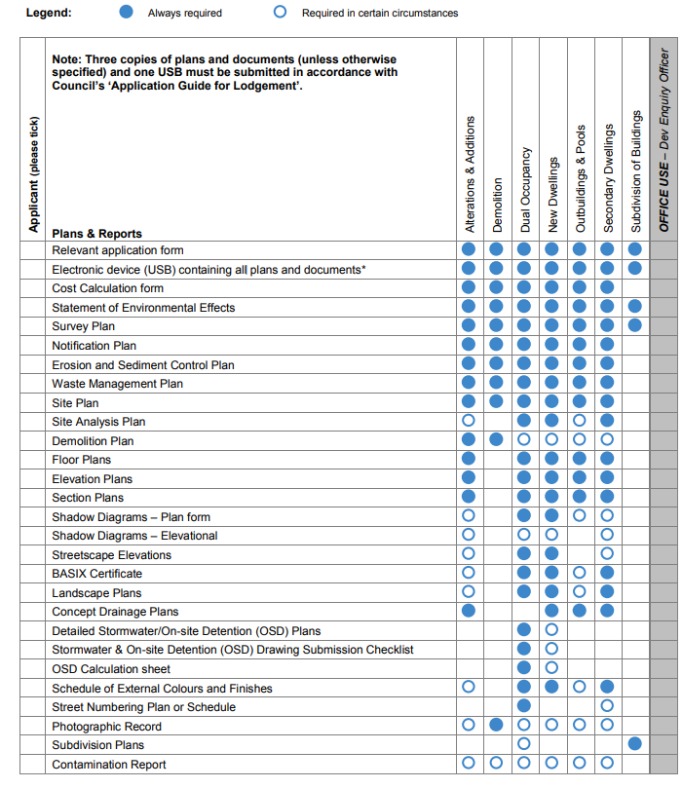 If you haven't worked with your local government before you can be forgiven if you believe this process is either seamless or quick. Personally I found this part of the process was the most frustrating. At times things moved at a snail's pace and other times I just hit a roadblock which seemed insurmountable.
I tell you this not to scare you, rather to prepare you. If you go in with a mentality of 'this is going to be difficult', you will be more likely to be ready for what's thrown at you by the council, builder and architect.
From a cost perspective, you will need to be prepared to outlay a fair amount of capital here. I spent roughly $20,000 on all the council fees as well as the fees for generating the reports/certificates required above. On top of this you will need to pay council bonds once all the paper work has been submitted and accepted by the council.
These bonds will eventually be returned to you once the development is finished. They act as a guarantee for the council in case you don't do something properly throughout the development. The actual cost of these bonds vary greatly. For one of my developments I had to pay $28,000 and for the other I only had to pay $8,000.
Even though you will get some of these bonds back you will need capital that is both available and not required throughout the development.
Once you finally receive your development application, you will then need to apply for a construction certificate through council. This is the final step in this process. Once you receive the approved construction certificate you can commence your development! Which is exactly what we will be discussing in the next article.